I'm a 43-year old physicist, I live in the greater Zürich area and work in Windisch at Fachhochschule Nordwestschweiz. I studied physics at ETH Zürich, finishing with a diploma thesis in nonlinear optics, did a PhD in solid state physics with Professor H.C.Siegmann and a Postdoc in beautiful Hawaii with Professor Klaus Sattler. When I got homesick in Hawaii I realized that I had to return; which I did in late 2002. Since then I have been working in Professor Heinz Burtscher's group as a research scientist. We specialize in the measurement of aerosols (e.g. particulate matter from diesel cars); using modern aerosol research equipment and on occasion building our own instruments - our specialty is the use of diffusion batteries and ultra-low-noise electrometers for size and number concentration measurements. We devised one of the world's smallest nanoparticle detectors, the
Miniature Diffusion Size Classifier
, and recently, I started a
small spinoff company
with Dominik Meier.
Before marriage and kids, I used to play chess a lot, and still play with the team of Wollishofen in the highest Swiss league, but less than previously. I also used to program a lot when I was a bit younger - mostly board games (chess / checkers / 4 in a row / solitaire). My program
CheckerBoard
is a de-facto standard program for all checkers enthusiasts. I'm working harder on the job now and have more other responsibilities in life, so I program less these days. Whenever I can, I spend my holidays in the alps, skiing or hiking.
So that I don't get too fat and lazy I now go swimming more often than earlier, a habit which I picked up in Hawaii (of course) - from Anne-Catherine - thanks for the swimming lessons! More on
Physics
,
chess
,
checkers
.
In 2006, I got my 15 minutes of fame by appearing on Swiss TV in the program 10 vor 10 on March 13,2006. You can watch the video by going to the
10 vor 10 archive
, and there look for the program part called "Dicke Luft in Restaurants" of March 13, 2006)
well, enough talk, enjoy the pictures!
Family
My just-married grandparents Dubs in Assuan on Silvester 1929. I never knew this grandfather, he died before I was born.
With my father at the Gritschersee in 1998
My parents swimming in the Gritschersee in 1998
I get a godchild: Pascale, together with her proud father Rolf
And another godchild, Lea, in the middle, watching the fireworks
My baby sister Alice, enjoying some of my fresh-baked Zopf
My step-grandfather (does such a thing exist??) in action around the time when I was born.
With my son Lorenz Markus on a mountain holiday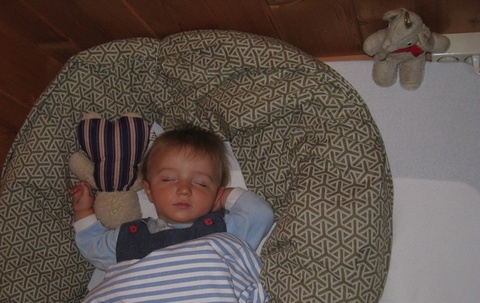 Lorenz sleeps...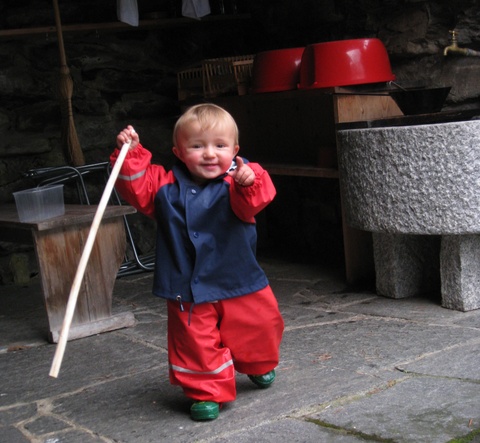 ...and walks...
...and has fun!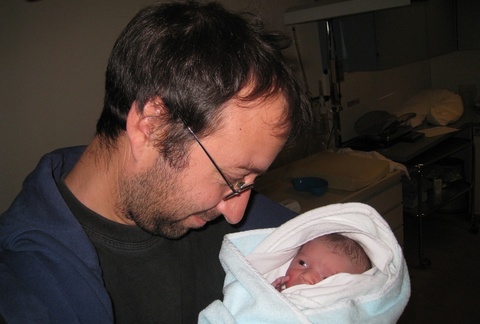 Franziska Elisabeth, aged about 30 minutes, gets a first glimpse of the world.
little boy, big hospital bed... - lots of worries!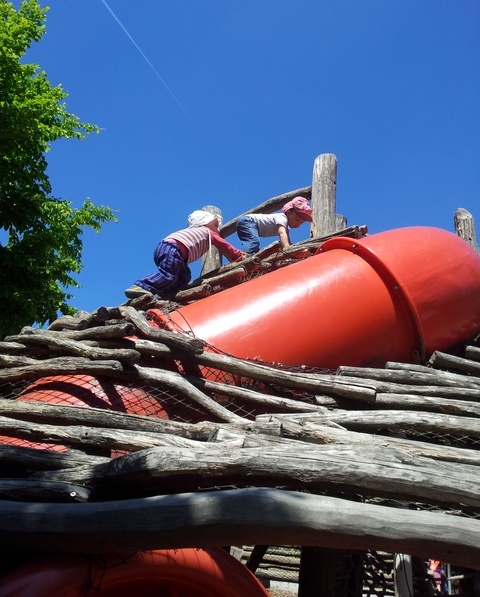 My kids on their own.
Summer holiday.
High School (Gymnasium)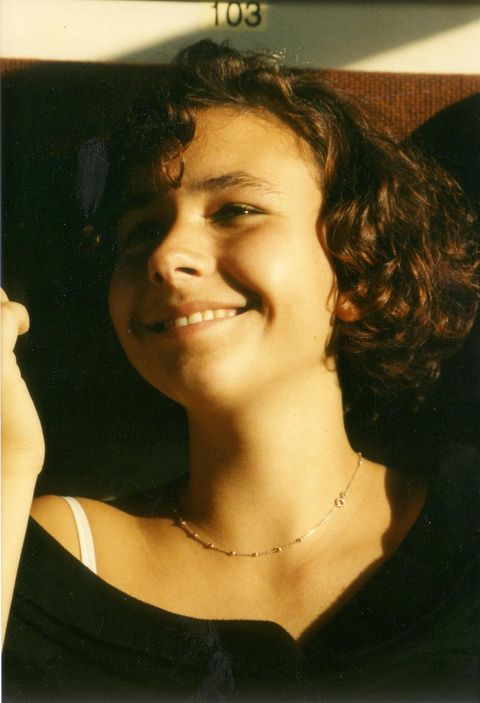 Nadine
My greatest programming failure ever! Actually, the program - for the dating agency that our class was running at the 1989 high-school party of the Gymer Neufeld - was just fine. The not-too-difficult special case
if girl = Letizia print "The boy of your dreams is Martin"
worked as intended, but when she came up to me laughing that I must have cheated I didn't know what to say... pathetic!
Class picture about at the time when we finished high school (1990): Standing, from left to right: Monika Tschanz, Lorenz Solca, Marcel Emmerling, Simon Birnstiel, Boris Furet, Agnes Hostettler, (somebody half-hidden who I can't recognize), Cornelia Schwab, Yves Beetschen, Nadine Hauser, Konrad Graf. Sitting, left to right: Hugo Ryser, Isa Bruhin (not in our class), me, Thomas Hulliger, Frank Gugger, Philipp Ritter, and a girl whose name I have forgotten - she wasn't in our class either.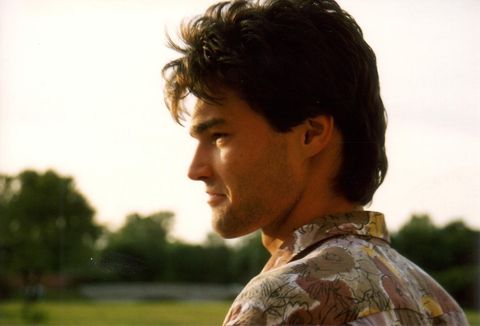 Just after the iron curtain dropped, I went on a weird trip to Russia with Rolf, Thomas and Lorenz
Physics Student at ETH
My student legitimation card of ETH Zürich, 1991
Simon, probably in Lauenen 1992
Konrad around 1992
Me in Lauenen around 1992
At the student world chess championship in Sofia, 1994
Fabian in Sils - no, he didn't drink both bottles all alone!
PhD Student at ETH
My Personalausweis as PhD student at ETH, 1996
I win the Swiss bundesmeisterschaft in chess in 1997!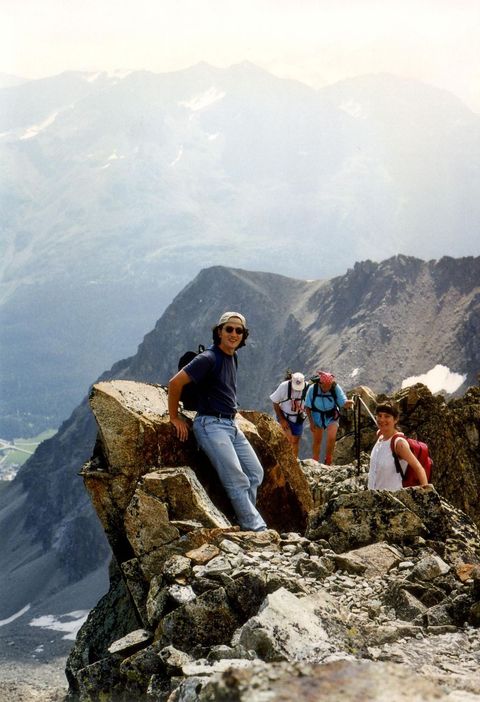 Fabian and Karin on the way to Piz Julier in 1997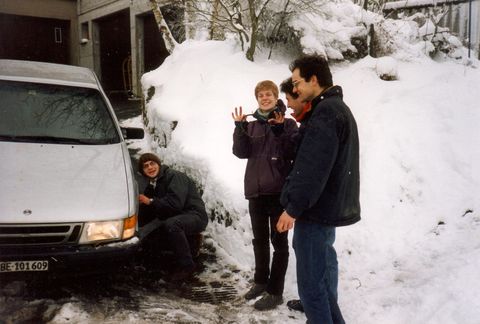 New Year 97/98 with Koni, Anna, Thomas and Hugo
I climb Kirche Fluntern in 1998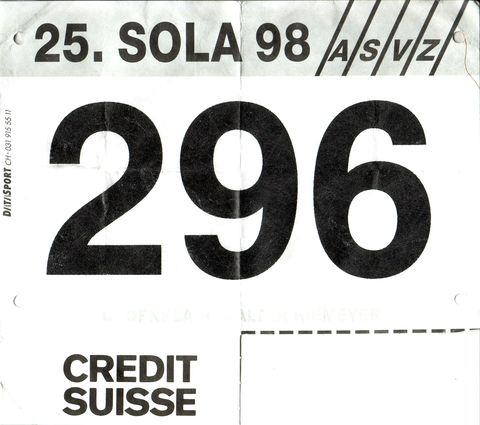 During my PhD, I had a brief phase where I made a lot of sports - which soon ended due to knee troubles
I had to work in the lovely German city of Essen for about a year during my PhD - I can't remember much more than this about it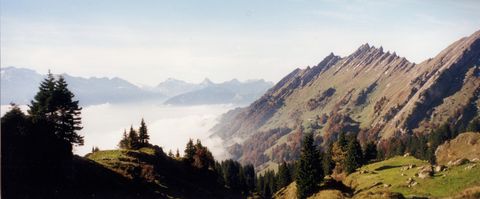 The Speer, which is quite low but nevertheless one of Switzerland's most beautiful mountains
Alejandro at the Edinburgh Aerosol Conference in 1998
15 minutes of fame, part 1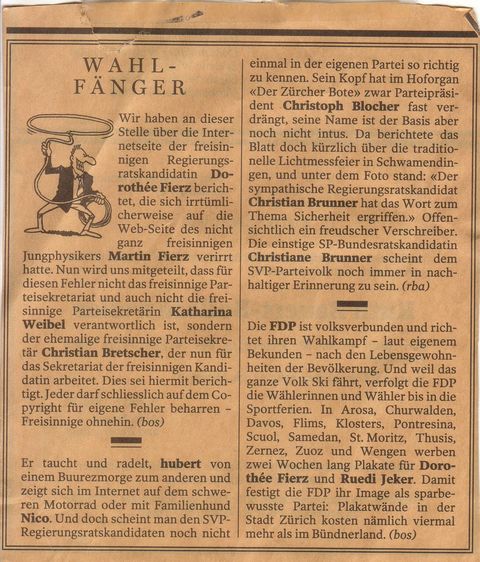 15 minutes of fame, part 2
In 1999, I went to China to measure particle emissions of a coal power plant at Tsinghua University
Ueli in China, March 13, 1999
Zhiqiang Qian with his wife, China, 1999
This is how you go skiing in China!
Karl at the Aerosol Conference in Prag, 1999
With Natalia and Alejandro from Amden over Leistkamm to Weesen, 1999
Johannes, Thomas, Jenny and Kerstin in Sils
My experimental setup for measuring the relaxation time of hot electrons in metallic nanoparticles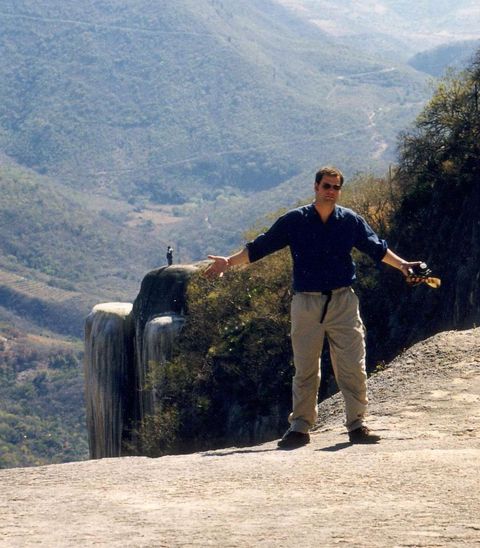 Christian in Mexiko 2000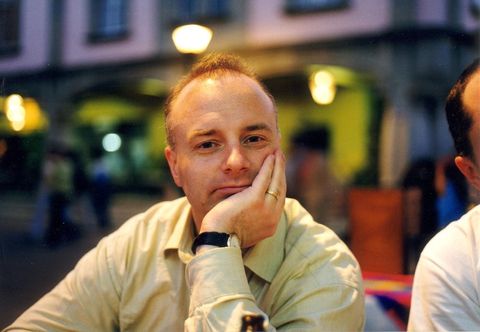 Wolfgang, probably in Mexiko 2000
My PhD advisor, HC Siegmann
I never would have thought I would miss Hönggerberg, but I do!
PostDoc in Hawaii
Just after 9/11 I went to Hawaii for a postdoc year in the group of Klaus Sattler. Of course I also enjoyed the sea...
...and went snorkeling often, where I saw a lot of my favorite fish, the Moorish Idol
In August 2002, I went to Las Vegas for the computer checkers world championship. Here's a picture of me and my program Cake playing against Nemesis by Murray Cash
Despite lots of work on my checkers program, it finished last of 3 entrants - however with the tiniest possible margin, 2 games lost, one won, and 45 draws. Nevertheless, I still enjoyed my All-American breakfast!
Aaaah, the sunsets! With Corinne on the balcony of our apartment, which was just on the sea.
Back in Switzerland
Oh my, am I this old already?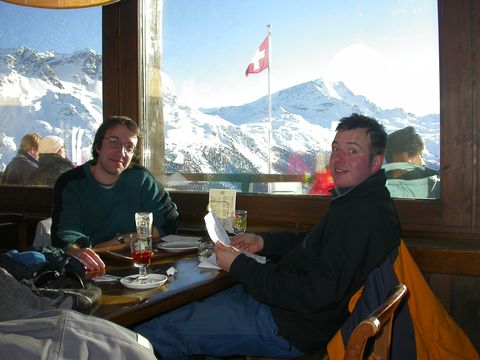 Skiing in St. Moritz with Johannes 2004
Doing Rocket Science with Ralf in 2004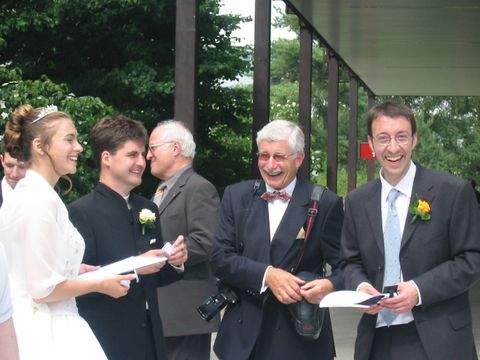 Best man at Andreas and Rahel's wedding in 2004
Ski day with the institute: Alejandro, Stefan, Markus, Heinz, Herbert, Simon, and Thomas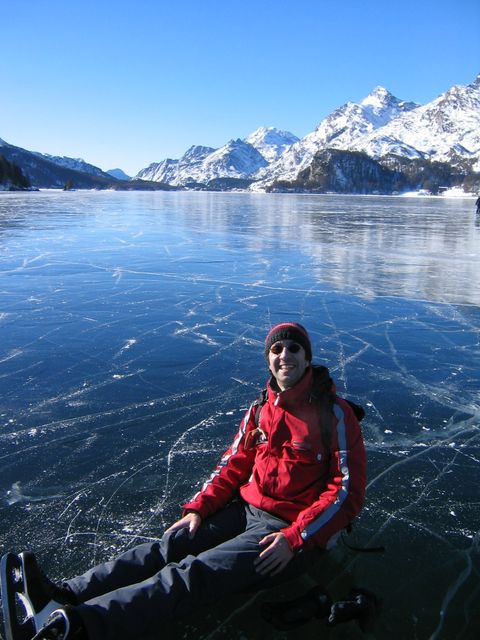 No snow for 3 weeks in Sils, lake Sils froze, and we went ice skating on it! No, I didn't fall down, I'm posing for the picture :-)
While cooking, I invent a new strategy game for two players and test it with Patrick
Patriotic food for real Swiss citizens on first of August 2006 in Austria
Austrian cows get the latest news on aerosols
This is what I would look like if I was a Southpark character!
Enjoying fondue with the ex-PhD-student gang; from left to right: Konstantin Siegmann, myself, Johannes Paul, Alejandro Keller, Heinz Burtscher, Christoph Hüglin, Harald Hepp, Karl Przybilla and Ernest Weingartner

In Zermatt with the PSIgirls :-)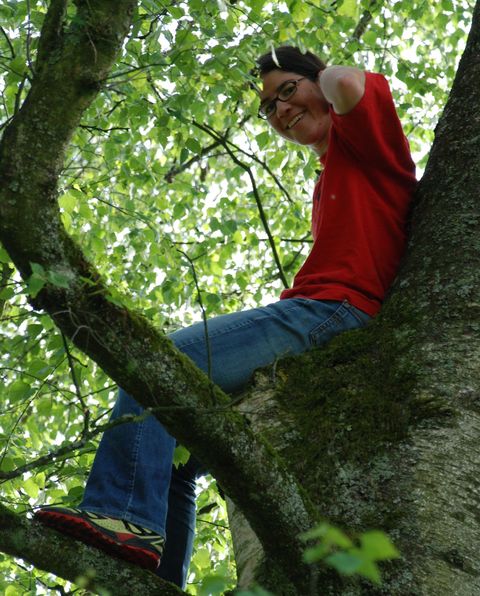 Rahel climbs our birch on her birthday!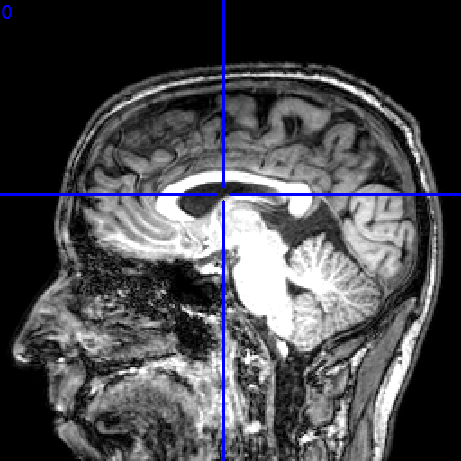 My brain, scanned on September 30th, 2008 (view as
movie
).
Incredibly, I get married...
My godchild Pascale seems to think it's a good idea
Back to Martin's Homepage